2nd Online Bootcamp for the Acceleration of the Algarve by Startup Portimão

The 2nd Online Acceleration Bootcamp in Algarve by Startup Portimão has arrived!
This is a program aimed at entrepreneurs with projects in the acceleration phase and who need help to take the next step. This Bootcamp is packed with specialized mentors, national and international speakers and judges and sessions on a wide range of topics.
Dates: April 21st and 22nd + May 19th and 20th
The Bootcamp took place 100% online, 100% free and 100% in English.
---
This year's Acceleration Bootcamp Online came to an end with entrepreneurs very motivated to continue the growth of their projects! Good luck to everyone!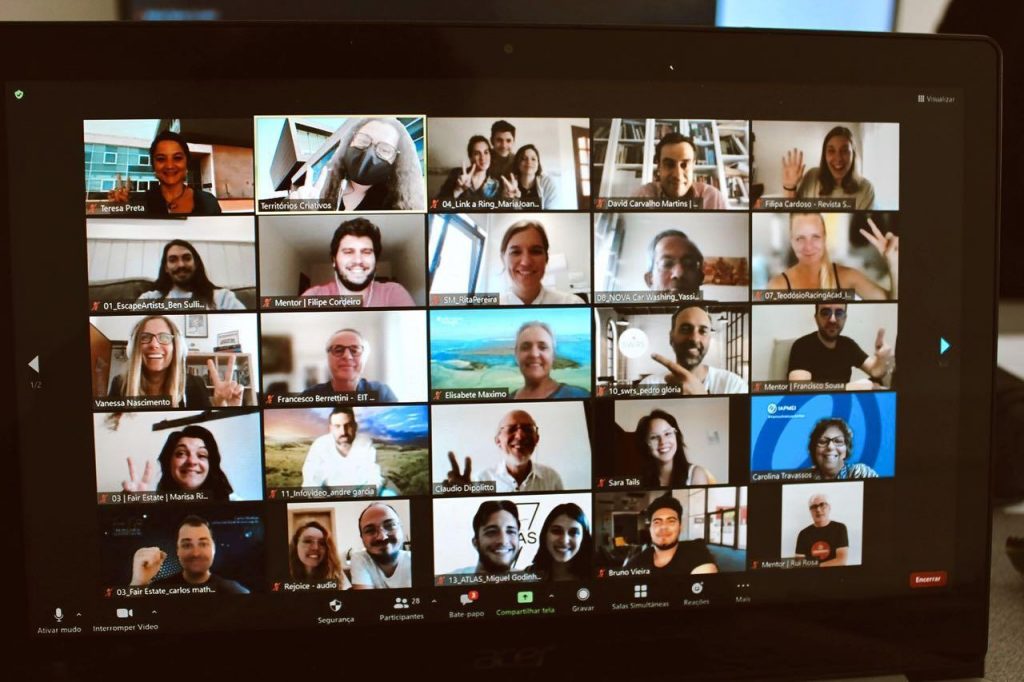 2021 Winners
The winners of the 2nd Online Acceleration Bootcamp in the Algarve are:
1st place: SWRS, a system to reuse gray water in sanitary discharges.
2nd place: Link-a-Ring, a laboratory for new Take Away & Delivery restoration concepts.
3rd place: The Escape Artists, construction of small spaces for work, leisure or creating a new income through local accommodation.
Honorable Mention: The ATLAS project, which aims to offer culinary tours aboard a vessel belonging to the Escola Secundária Poeta António Aleixo.
---
Conference "The Future of Smart Cities"
On May 20th, a conference will take place under the theme of Smart Cities and the Sustainable Development Goals, broadcast in live streaming.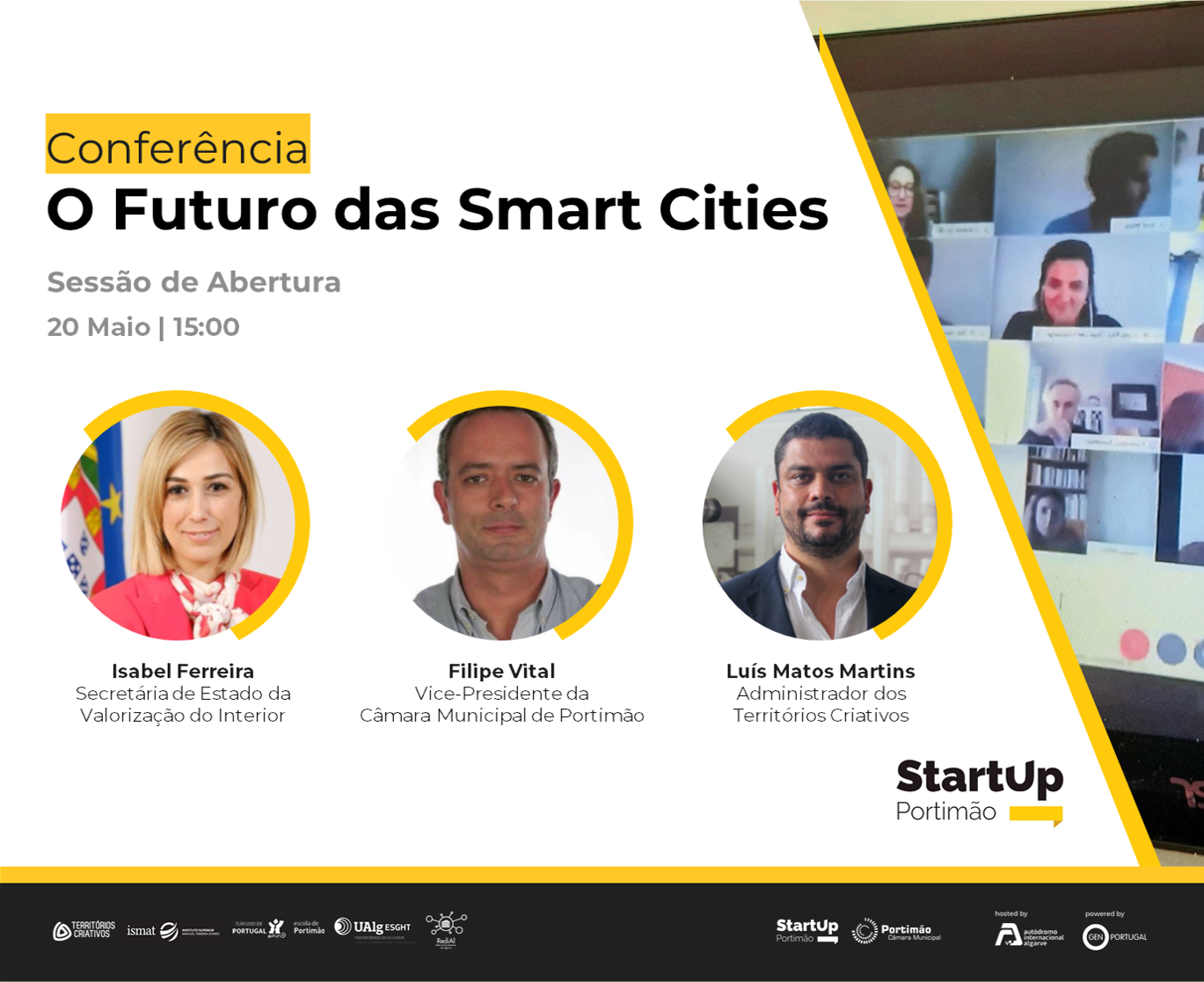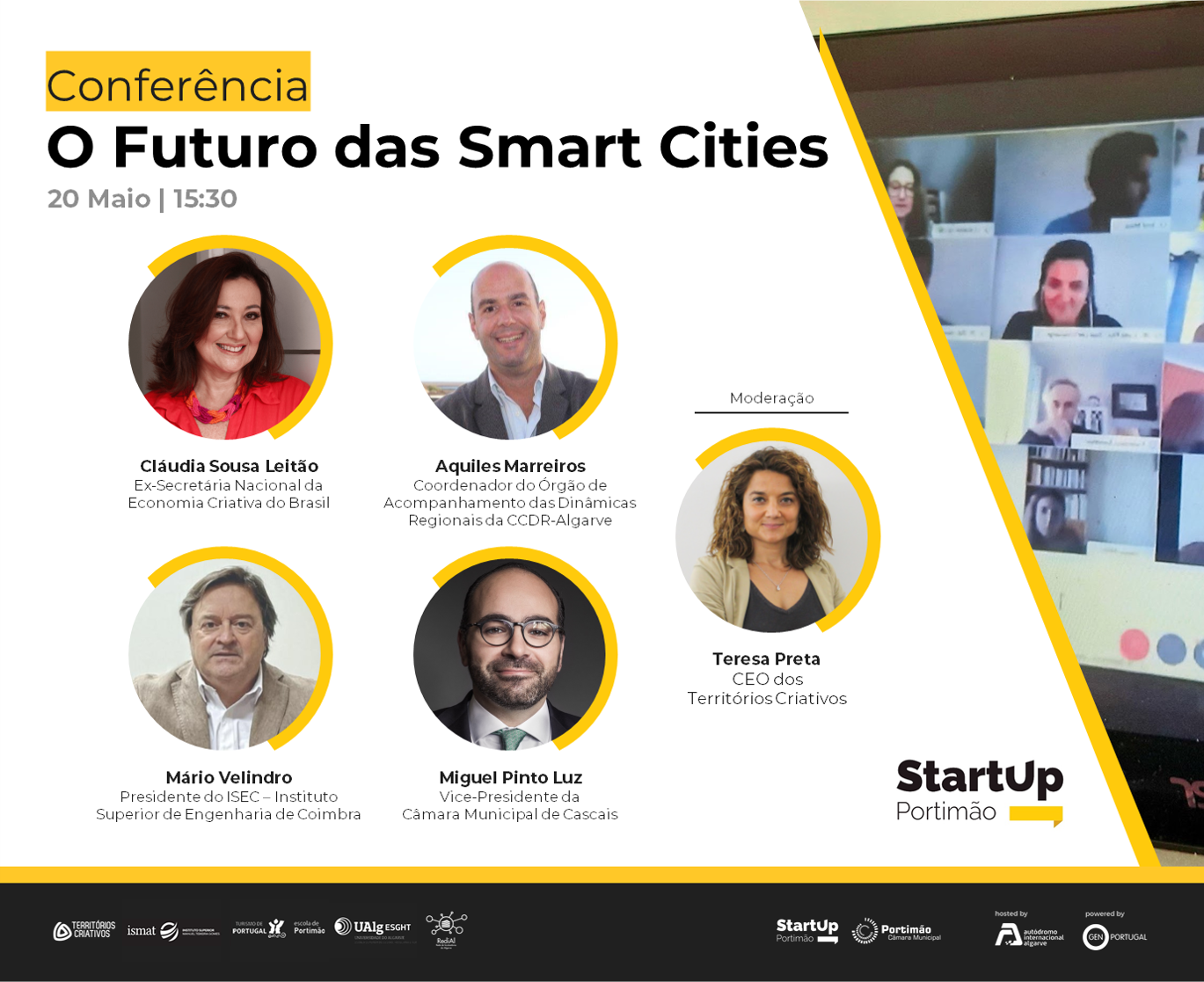 Opening session:
May 20th at 3:00 pm
Isabel Ferreira – Secretary of State for the Valorização do Interior
Luís Matos Martins – Administrator of Territórios Criativos
Filipe Vital – Vice President Câmara Municipal de Portimão
Conference attendees:
May 20 at 3:30 pm
Cláudia Sousa Leitão – National Secretary for the Creative Economy of Brazil;
Aquiles Marreiros – CCDR Algarve's Regional Dynamics Monitoring Coordinator;
Mário Velindro – President of ISEC – Instituto Superior de Engenharia de Coimbra;
Miguel Pinto Luz – Vice President of Câmara Municipal de Cascais.
Moderação: Teresa Preta – CEO of Territórios Criativos
---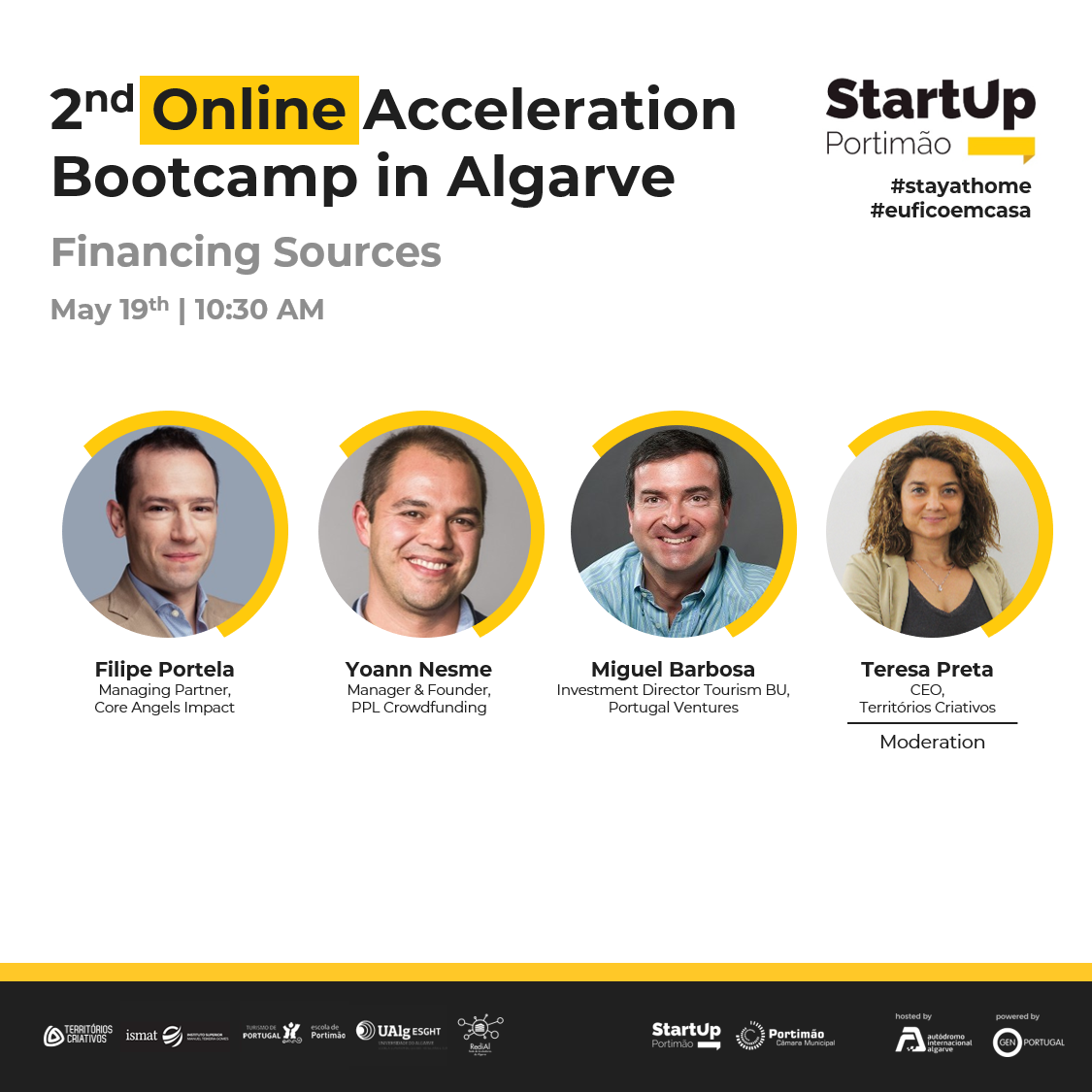 Talk "Funding Sources"
Session with various insights into different forms of financing. This session features experts from different areas, including crowdfunding, venture capital, business angels and banking.
Miguel Barbosa – Tourism Investment Director, Portugal Ventures
Filipe Portela – Managing partner, Core Angels Impact
Yoann Nesme – CEO and founder, PPL Crowdfunding
---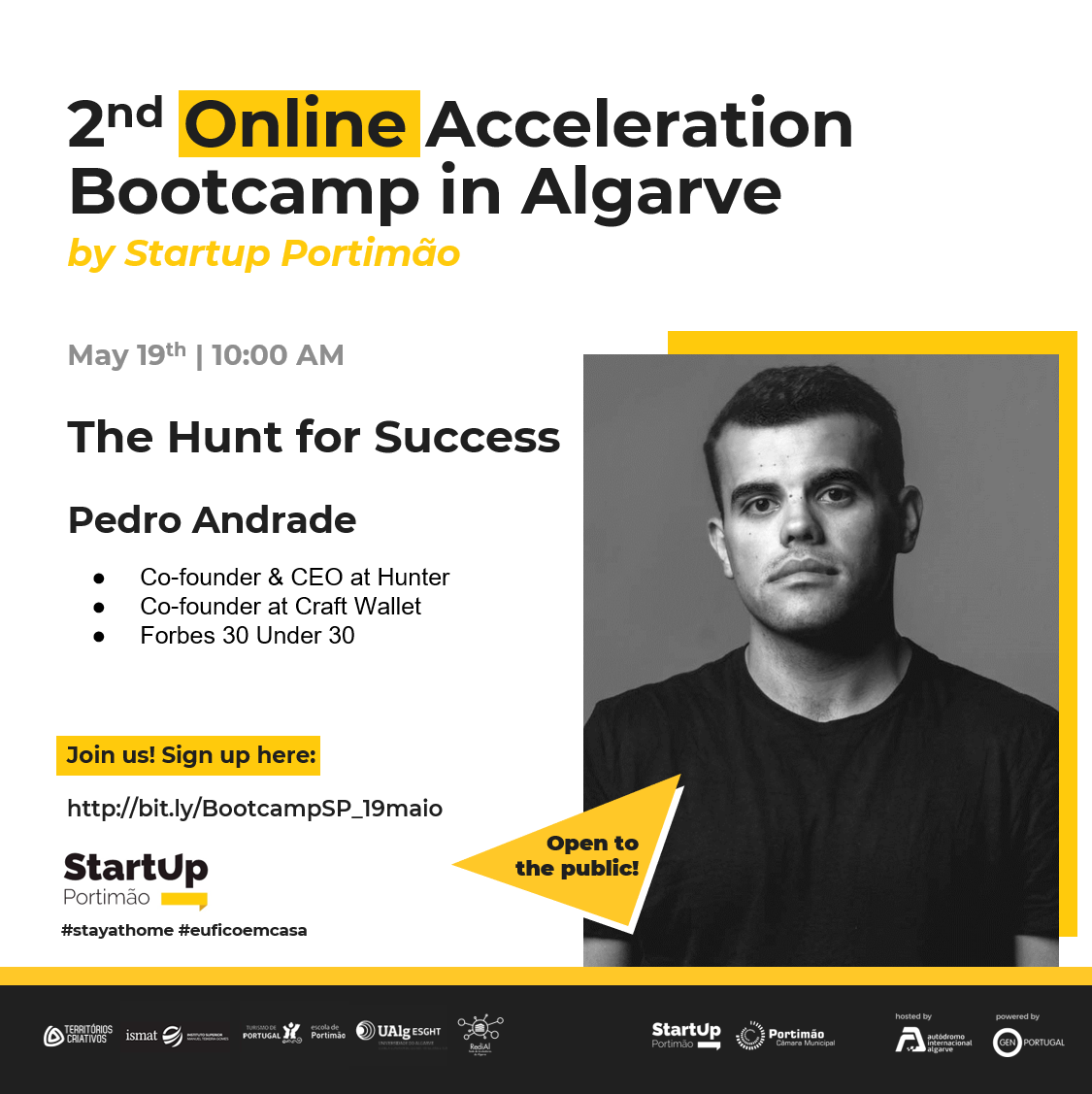 Talk "The Hunt for Success"
Join us to find out with Pedro Andrade, founder and CEO of Hunter and member of "Forbes 30 under 30". Pedro chased an investment of €500,000 and who doesn't want to know how he did it.
---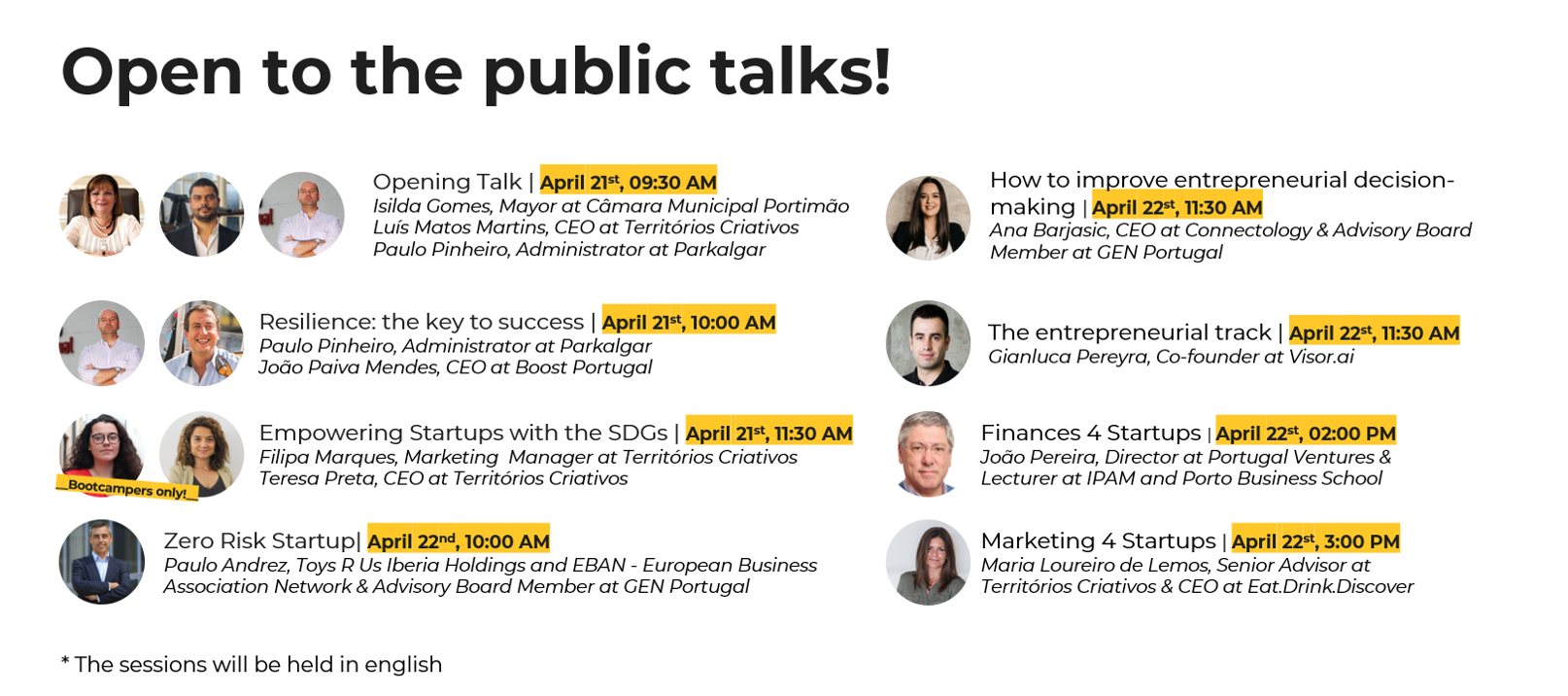 *The talks will be hosted in English
---
Smart Cities and ODS – Sustainable Development Goals set the tone for the initiative
The Smart Cities and the SDGs – Sustainable Development Goals will be the two transversal themes at all times in this bootcamp, whose sessions will be in English. On the one hand, it will seek to identify startups and projects linked to the incubator's areas – Smart Cities, which somehow improve the lives of those who live, work or visit cities; on the other hand, it is intended that entrepreneurs develop sustainable businesses and "of the future" – that contribute to achieving the 17 Sustainable Development Goals.
This acceleration program will culminate with selected entrepreneurs presenting their projects, worked throughout the Bootcamp, before a panel of national and international judges.